During the past year I have had a series of telephone conversations with guitar virtuoso Tilman Hoppstock. We spoke about his many recordings of J.S. Bach, Villa-Lobos, Sor, and Brouwer, his interest in 19th & 20th century guitar music, his collaboration with Christoph Prégardien, and his publishing firm Prim-Editions. After speaking with him and becoming more familiar with his work, I realized that it would be beyond the scope of this interview and my writing skills to really cover the extensive contribution that Tilman has made to the classical guitar. Therefore, I would like to share some of the highlights that I think can give us an introduction to Tilman Hoppstock.
We began the interview by discussing his recording of the Villa-Lobos Etude No. 7 from his CD "Works for Guitar".
What is the right hand fingering that you use for the opening scales? I performed it two different ways. The first time I did it legato (slurred) and the second time after the repeat I did it apoyando (rest stroke) using m-i. The first is legato which is the way I think sounds best and if I were to record it again today this is the way I would play the scale both times. I should be honest about the reason for the apoyando the second time around. The choice was not a musical reason, because I think that it sounds best slurred. Using apoyando the second time was to show that I was also able to play it that way. Today I would not do that since I think the musical idiom of the guitar comes out much better playing legato.
Ex: Villa-Lobos Etude No.7 (ligado)
Villa-Lobos Etude No.7 (picado) 
What about the bossa nova feel to the arpeggio section? It was funny, it was just by chance. I found that if I did not concentrate myself in the rhythm the bossa nova feel came right out, because the arpeggio in this case works like that. I realized how much better and natural it sounded playing it in this way.
Villa-Lobos Etude No.7 (arpeggio sect.)
What do you do to practice the independence between your fingers in both your right and left hands? I started to find my own way during the middle of my studies. What I always work on first and what I presently have my students do is just to practice the movements without plucking the strings, but only to move and prepare the fingers. The same I do with the left hand, for ligado, something I practice in the same way. First I prepare the fingers as close as possible to the strings and while maintaining the fingers in the air I move down the second finger, then the third finger and I follow this by combinations of, for example, the second and fourth fingers together. This is very difficult because the tendency is for all of the other fingers to move around. I also do the same kind of exercises for the right hand. I start by plucking with one finger at a time and later introducing plucking with two fingers in combination i-m and so forth, I work very hard at this kind of practice.
Is most of your right hand fingering for scales played i–m? Yes, I frequently use that fingering. I also often use combinations like p-m-i and on the bass strings I like to use p-i.
How do you know Julian Bream? This picture was taken last December. I first met Bream about 25 years ago. I have been fortunate to have heard him several times in private concerts he has given near my home town for small audiences of around 60 people. It always was a real pleasure. Also, he once gave me a private lesson; that was also about 25 years ago. I have stayed in contact with him from time to time over the years and last December, when I went to visit my good friend and guitar maker Christopher Dean, I also contacted Bream again to visit him. It was great!
How did you come about the ornament that you do in the Gavotta en Rondeau BWV 1006a & similarly in the Sarabande BWV 825?
Gavotte en Rondeau, Suite BWV 1006a

Ex: Sarabande, Partita Nr. 1 BWV 825 
The Gavotte en Rondeau comes from the Suite in E BWV 1006a. This work Bach transcribed himself for the lute. The best way to explain how I do this ornament is to go to measure 82 of my edition PRIM-16750. This long trill makes it possible to recreate the ornament that would be expected in period harpsichord interpretation.

What elements of cello playing do you apply to your guitar playing? That's a very interesting question and one that people often ask me. But the truth is that I am not very sure about that point. I think that the main advantage that I was able to transfer to my guitar playing is in the area of phrasing and articulation, an area that I was able to develop when I played in an orchestra for four years.
What made your decision to dedicate full time to the guitar? I think that always the guitar was my main interest but I started earlier with the cello at the age of eight. Years later when I wanted to become a professional guitarist my parents said they could only accept me as a professional guitar player only when I also studied cello professionally. This became quite difficult when I had to play in the orchestra and learn a full program on the cello for my examination. Finally, I was very happy to play the cello, too.
When did you start Prim-Musikverlag? Prim started in 1993 and I operate it from my home. It is a small publishing company that I run myself. I have published both urtext editions and performance editions of the Bach lute suites, many arrangements of Froberger, Couperin, Buxtehude, Vivaldi, Telemann, Brahms, and Debussy, as well as an important contemporary work by Karl-Wieland Kurz. The example below is the scholarly edition of the Bach Lute Works but I also publish my performance editions of these works that include my fingerings and ornamentation.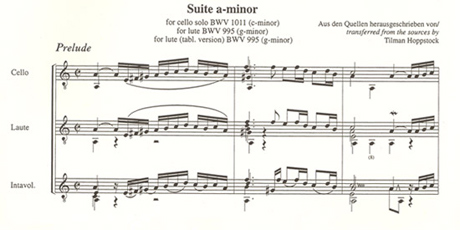 Will you be publishing the Trio Sonata that you arranged for guitar and cello and recorded on your Bach guitar and cello recording? Regretfully not. It doesn't make sense because it is for a five string violoncello piccolo that not many people play.
largo BWV 529
allegro BWV 529
You also publish simple arrangements for children? Yes, I love to do this. I have made a lot of easy arrangements for two, three, and four guitars. They are introductions for children to the music of famous composers like Mozart, Beethoven, and Granados.
What music publishing projects do you have planned in the near future? My latest project, besides my edition of Schubert songs in nine volumes, is an Urtext-edition of Ponce works which will be published by Schott. This is a 64-page scientific edition with an extensive and detailed introduction in English and German. This book will be of great importance because it will show the many changes that were made between the Ponce manuscripts and the Segovia editions. This project took many years to complete because convincing Schott of the project's importance took some time, and the painstaking task of going through all the original manuscripts.
Which works are included in the edition? Sonatina meridional, originally called Sonatina, Thème varié et Finale, Sonata Clasica and Sonate Romantique. Schott will publish this edition at the end of March during the "Frankfurter Musik Messe."
Did you record any of these pieces on your Ponce CD? Yes, the Sonatina and Thème varié et Finale based on the original manuscripts. I prefer the "pure" Ponce version, which gives us a complete idea of what the composer originally intended, without the edits that were made by Segovia.
How do you divide your current schedule with concerts, teaching and publishing? I have reduced my concert schedule to about 25 to 30 concerts per year because I usually prefer not to be gone for more than 50 days per year from my teaching and arranging. I also have a guest professorship in Sweden where I teach four times per year at the Music High School in Pitea (Sweden). Here I work with the same students on different occasions throughout the year. For the past 15 years I have been on the faculty at the Gutenberg University in Mainz and the Academy of Music in Darmstadt where I teach chamber music, guitar harmony and counterpoint. In addition, I am sometimes a guest at the "Francisco Tárrega Guitar Academy" directed by Paolo Pegoraro & Stefano Viola in Pordenone, Italy.
What is your starting point with your students? I really like to start with the Sor studies Op. 60, Op. 35, and Op. 31, regardless of the level of the student. There are many basic aspects about music that one can learn with these pieces. This music can really show best the musical possibilities of a musician. I also encourage and stress the importance of participating in chamber ensembles.
How do you address the aspect of velocity? To be honest, I think that the ability and talent of playing fast is deep inside from the beginning. What I do is to try to bring the player to the edge of their natural limits using scales with different rhythmic patterns in combination with very slow practicing.
What guitar and strings do you presently use in concerts and recordings? For 20 years I played an instrument by Robert Ruck, but this instrument is now in retirement. For concerts I am now very happy with my Matthias Damman. For my last two recordings I used a spruce top guitar by Christopher Dean. As for strings, I use D'Addario EJ 46 for performances and for recordings I like to replace the basses with the Savarez Red Corum.
Lacg Thank you for taking the time to share your thoughts and I am looking forward
to your visit here in Los Angeles in March 2006.